If a picture is worth a 1,000 words.
Then here are about 50,000 words.
Pictures tell a story, so I guess this is my story.
My thanks to everyone that helped pull pictures together after the fire.
I still need rock climbing & scuba pictures (from before the fire)
Holding your mouse over the picture will tell you about the picture.
Clicking on the picture, will show you the picture full size.
Some Pictures are rather large, so they may take a while to load
Just Random Pictures here
SkyDiving

With over 1,000 jumps in 20 years I had hundreds of pictures, most of them lost in the house fire, but luckily there were copies of most of them, and this group will continue to grow.
The Relentless

Never have I put so much work into something that keeps breaking.
But there is something about the older boats. When someone walks right past a brand new boat, and walks up to mine, and tells me how great it looks, makes it all worthwhile. This is my summer home, you will find me here most weekends from spring to fall (and a lot of weekdays also).

details at the bottom of the table

These two pictures are what the Relentless looked like when I bought it. It was in very bad shape after sitting for over 4 years without being run

The first year was spent getting all the mechanical working, including a new engine.

The second year was spent getting to boat looking better, all vinyl was stripped, and the whole hull was wet sanded and compounded, a full camper top was added, and all new vinyl was installed.
The pictures below will show that it was worth it.

By the end of year 3 was it all worthwhile?

You decide

Year 4 the interior

Details soon
I made the cover of Coastal Fisherman Magazine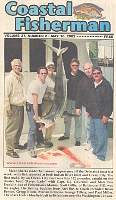 OK I'm not really a fisherman, but I was invited to go Shark Fishing (a first for me), and I caught the first Mako Shark of the season. It took 45 minutes to reel this bad boy in, and it felt like I had a truck on the other end of the line.
There are a bunch more pictures if BRIAN would get them to me.
Click on the picture to read the article
My First (and only) attempt at being a Male Model

Some friends of mine have a club in Baltimore, and they asked to pose for an ad layout they were doing (I guess they liked the way I looked in my leathers). The only way they would let me post the pictures on the web was to remove the backgrounds (I guess to protect the innocent)